Interfolk
Institute for Civil Society
The Institute

The association Interfolk manages the Institute for Civil Society that works with research, development projects, courses and debate activities as well as other cultural activities - in a Danish, Nordic and European context.
The work gives a high priority to collaborative networks with associations and institutions from the area of liberal adult education and volunatry associations in civil society, because multilateral and cross-national partnerships pave the way for new ideas, new forms of activities, a broader interface and more funding options.
Krzysztof Kieslowski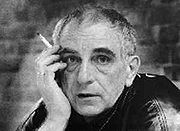 Do people really want liberty, equality, fraternity? Is it not some manner of speaking?

Asger Jorn og Guy Debord: Copenhague, Conseiller technique pour le detournement, 1957